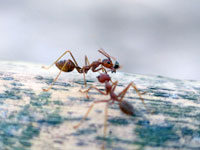 PHARAOH ANTS CAN CAUSE BIG PROBLEMS IN LAS VEGAS
Pharaoh ants are hardy and can survive the winter months – here in Las Vegas we don't have harsh winters so they are a nuisance pests around the Valley.
Pharaoh ants take advantage of our artificial heating indoors to survive the winter. Infestations commonly occur in the kitchen or unsanitary areas in restaurants, although nesting will be in well-protected and hidden areas throughout a structure. Pharaoh ants can be found outdoors during warmer months in garden, patio or lawn areas.
Also been referred to as "sugar ants", eat many types of foods and other insects, but especially prefer sweets, greases and meats. These trail-making ants will be found foraging through unsanitary places and/or pet food areas quite often looking for food. The most obvious signs of a Pharaoh ant infestation are simply witnessing the small workers as they forage along surfaces; they will appear as trails in motion.
Pharaoh ants are very tiny ants, they are about 2 mm long (or 1/16th "). The ants are light yellow to reddish brown in color with red and black markings on the abdomen. Interestingly enough, their thorax hasn't any spine.
The Pharaoh ants can build nests in wall and cabinet voids, behind baseboards, refrigerator insulation, the hollows of curtain rods, the folds of clothes, boxes of food, sheets and paper and other quiet, dark spaces.
Prevention Tips to Avoid:
Keep pet and human food in stored containers.
Daily wash dishes (food stained dishes can be a food source).
Clean up crumbs and spills immediately.
Keep tight-fitting lids on garbage containers.
Avoid using ant and bug spray as it can cause the nests to split and spread the infestation out
GLOBAL PEST SERVICES in Las Vegas is a licensed pest control company that is qualified to handle all your pest elimination needs including Pharaoh Ants needs Call our office at 702-657-0091 or go to our web site- to speak with us for all your pest control needs.  Get a quote now!
Let us know what's bugging you….