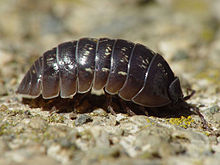 PILLBUGS AND SOWBUGS IN THE LAS VEGAS VALLEY
The summertime in the Las Vegas Valley is monsoon season and the season pillbugs and sowbugs invade gardens and yards from Centennial Hills to Anthem.
Pillbugs and sowbugs are small terrestrial creatures in the isopod family that like to live in damp places. They have a hinged exoskeleton like an armadillo. Isopods have seven pairs of legs and two pairs of antennae -one large, one small.
Pillbugs and sowbugs usually are inactive during the day and hide under things to stay cool and reduce water loss. At night, they come out to feed on decaying organic matter such as garden mulch, grass clippings, and compost. . However, they occasionally feed on seedlings, new roots, lower leaves, and fruits or vegetables lying directly on the soil or near a damp soil surface.
Pillbugs are recognized by their ability to roll up into a tight ball -a defensive position and they lack obvious tails. Sowbugs lack the ability to roll up into a tight ball, but they have two tails.
Though they're often associated with insects and are referred to as "bugs," pillbugs actually belong to the subphylum Crustacea. They're much more closely related to shrimp and crayfish than to any kind of insect.
Contact a pest control professional to eliminate any problem caused by pillbugs or sowbugs in your yard or home.
GLOBAL PEST SERVICES in Las Vegas is a licensed pest control company that is qualified to handle all your pest elimination needs. Call our office at 702-657-0091 or go to our web site- to speak with us for all your pest control needs. Get a quote now!
Let us know what's bugging you….