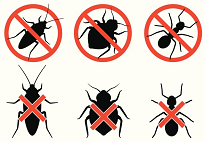 QUESTIONS AND ANSWERS ABOUT PESTS THAT OCCASIONALLY INVADE OUR HOMES
Homes in the Las Vegas Valley from Boulder City to Centennial Hills can experience an occasional pest problem. The term occasional invader is a catchall for a group of pests that invade the home due to what could be hostile weather conditions that could be harmful to the pest's survival.
The following are some questions and answers on what is known as occasional invaders.
What type of pest falls into this category?
The most common of the pests included in this category are crickets, ladybugs, centipedes and millipedes, boxelder bugs, scorpions, silverfish, earwigs and stink bugs to name a few.
What time of year are these occasional invader most active?
They are active outdoors all year long; however in the fall homeowners tend to see them indoors as they are looking for a place to overwinter.
Can occasional invaders cause problems inside the home?
Mostly they are more of a nuisance than anything else. Some bugs give off unpleasant orders like the stink bug. Ladybugs and boxelders may exude a defensive fluid when crushed and stain fabrics they are found on, and silverfish might do damage to papers and books.
What can a homeowner do to prevent an occasional invader infestation?
To eliminate the possibility of invaders clean up piles of leaves and overgrown vegetation. Also seal and caulk all cracks that could be entry points, especially the foundation and around utility pipes. You should also repair any damaged screens on windows and doors.
How does one get rid of occasional invaders?
If you spot one or two pests in your home you can use your vacuum cleaner to get rid of the problem. If you find a large infestation it is advised to contact a licensed pest professional to properly treat the problem.
GLOBAL PEST SERVICES in Las Vegas is a licensed pest control company that is qualified to handle all your pest elimination needs. Call our office at 702-657-0091 or go to our web site- to speak with us for all your pest control needs. Get a quote now!
Let us know what's bugging you….