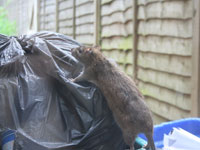 This past summer there was a news story on local Las Vegas rat infestations – rats have been noticed from Henderson to Centennial Hills and all neighborhoods in between.
The Southern Nevada Health District stated more people have reported noticing rats all over town- over 35 of the zip codes in southern Nevada since 2003.
One resident said "I was sleeping and heard a ruckus in the bathroom. I went in there and we had a huge rat in there. It was pretty scary, especially with little kids."
Another Las Vegas resident said her cats have been bringing them home – thankfully most have been dead when brought home. She added "These guys look like river rats. They're huge, they have long tails."
A spokesperson for the Southern Nevada Health District, Vivek Raman, said the District traps rats twice a year for surveillance – they have tested around 250 since 2003.
Raman stated "The good news is we found no diseases. The bad news is we did find a very healthy, robust rat population in the Valley."
The most common rat in the Las Vegas Valley is the roof rat – not native to our area. They came here on palm trees and shipping/cargo containers.
The roof rat likes to live near people and all the amenities – swimming pools provide a constant source of water. Fruit trees offer these rats a food supply as does left out pet food.
Roof rats can produce six to eight offspring three or four times a year. They are invasive and destructive – they chew on electric wires in the home and in cars. If you spot any rodent it is imperative to call a pest control company.
To get rid of all rodents or other pests you might encounter in the Las Vegas Valley contact GLOBAL PEST SERVICES.  The licensed professional technicians are well trained in eliminating all pests.  Get your quote now!
Let us know what's bugging you…