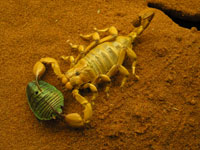 SCORPIONS ARE OF INTEREST TO PEOPLE LIVING IN THE LAS VEGAS VALLEY
Last week we wrote a blog regarding Bed Bugs – there are several other bugs and pests that interest people that reside in Las Vegas.  We at Global Pest Services are asked about Scorpions all the time.
The two most common scorpions in Southern Nevada are desert scorpions and bark scorpions – the bark scorpion is the main problem around Las Vegas because their stings can be deadly if not treated.
 The reproductive cycle of scorpions is quite interesting and has unique characteristics not repeated in other arachnids. The scorpion offspring - on average are 25 to 35 (however in certain species can be more) - are miniature versions of adults but without a fully developed exoskeleton that they need to survive in their environment. They have a whitish-transparent color and a very soft texture, besides being tiny.  They stay with the mother until they have their first molt, which occurs approximately 50 days after birth.  After that, they leave the body of their protector and go out to hunt on their own. They molt five more times before reaching full development. A female can have new offspring sometime between a few months and a year after her last mating..  Some scorpions live surprisingly up to 20 years; however the bark scorpion's life span is usually six years
Scorpions are easily recognized with eight legs, oversized claws and a stinger-armed tail. They usually feed on small insects. Since they are small and blend with landscaping they can be missed and accidentally stepped on – so it is advised to wear shoes at all times. The popularity of irrigated lawns, and other systems which increase environmental humidity in residential areas, has led to a considerable increase in the number of these pests.
Bark scorpions hide during the heat of the day, typically under rocks, wood piles, or tree bark. Bark scorpions do not burrow, and are commonly found in homes, requiring only 1/16 of an inch for entry. An interesting trait of the scorpion is they become fluorescent under ultraviolet lights such as blacklights. This is used by many pest control experts to find these pests and eliminate them.
GLOBAL PEST SERVICES in Las Vegas is a licensed pest control company that is qualified to handle all your pest elimination needs.  Call our office at 702-657-0091 or go to our web site- to speak with us for all your pest control needs.  Get a quote now!
Let us know what's bugging you….