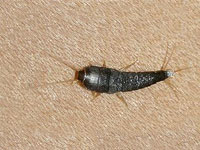 SILVERFISH – A PEST IN HOMES ACROSS THE UNITED STATES
People across the country as well as the residents of the Las Vegas Valley have a problem with silverfish. They are those squirmy fast moving pests that you find hanging around moist areas of your home in Summerlin or Henderson.
They have thin pale bodies silvery or brown in color with fine scales, feathery legs, two long antennae, and are wingless – they dart around and disappear quickly before they can be captured or killed. Silverfish are about ¾ of an inch long.
They are common in homes but are nocturnal pests so you rarely see them. Silverfish are not known to transmit diseases to people but can cause damage to the contents of your home. Silverfish are chewing insects – they prefer starch and simple sugars and will consume anything with these ingredients that are not stored in sealed containers. They will destroy household items such as carpeting and clothing, adhesives, string, books and photographs – almost anything made of fiber. They will also eat dead insects and their own molted skin.
Prevention of a silverfish infestation is not easy but manageable – all you have to do is clean up areas where wood, old papers or books and cardboard are stored. Also where the bugs are noticed – make sure you clean and vacuum frequently.
If you find a large infestation it is recommended to call in a professional pest control company. For help getting rid of silverfish or other pests you might encounter in the Las Vegas Valley contact GLOBAL PEST SERVICES.  The licensed professional technicians are well trained in eliminating all pests. Get your quote now!
Let us know what's bugging you…