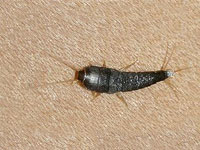 SILVERFISH LOOK FOR SHELTER IN HOMES
Silverfish are quite ugly bugs that can be found in homes in all areas of the Las Vegas Valley – in Henderson, Summerlin or in Central Las Vegas.
They have thin pale bodies silvery or brown in color with fine scales, feathery legs, two long antennae, and are wingless – they dart around and disappear quickly before they can be captured or killed. Silverfish are about ¾ of an inch long.
They are common in homes but are mostly nocturnal so you rarely see them. Silverfish are not known to transmit diseases to people but can cause damage to the contents of your home. Silverfish are chewing insects – they prefer starch and simple sugars and will consume anything with these ingredients that are not stored in sealed containers. They will destroy household items such as carpeting and clothing, adhesives, string, books and photographs – almost anything made of fiber. They will also eat dead insects and their own molted skin.
Most often, homeowners will they have silverfish when they find one on the floor or in a sink or bathtub. Their feeding damage also can indicate their presence, along with their tiny feces.
GLOBAL PEST SERVICES in Las Vegas is a licensed pest control company that is qualified to handle all your pest elimination needs including silverfish.  Call our office at 702-657-0091 or go to our web site- to speak with us for all your pest control needs.  Get a quote now!
Let us know what's bugging you….