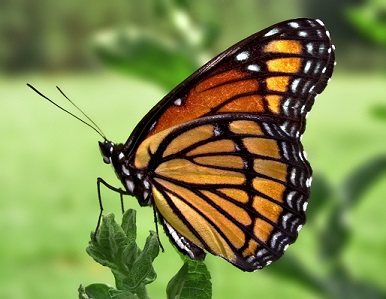 SPRING IS THE TIME TO SEE BUTTERFLIES IN LAS VEGAS
If you love seeing butterflies and live in Southern Nevada this is the perfect time to look for them.  They start flying now and will be around until late April or beginning of May.
The butterfly is truly one of nature's most beautiful creatures. Butterflies and skippers (look like smaller butterflies) belong to the Taxonomic Order: Lepidoptera; or commonly "lepidopterans".  They are insects with two pairs of membranous wings. Butterflies and skippers tend to be brightly colored, fly during the day, and have antennae with long stalks and a knob on the end.  Southern Nevada is home to hundreds of varieties of these wonderful insects.
Many species of butterflies are quite specific in their needs; they will only feed and lay eggs on certain types of plants. The eggs hatch into caterpillars, which range from big and green to small and hairy and everything in between. Caterpillars feed, grow, and then become dormant, forming in a silken cocoon or hiding in the soil. While dormant, they metamorphose into the adult form, then "hatch" into a fully formed adult butterfly and then the cycle of life repeats.
You and your family can see butterflies at the Butterfly Habitat at The Springs Preserve. This is a seasonal exhibit that runs through May 28, 2018. You can wander through the unique Butterfly Habitat and witness the fascinating dance between free-flying butterflies, the plants that sustain them, and understand the important role they play as pollinators in the ecosystem.  Go to https://www.springspreserve.org/explore/butterfly-habitat.html for more information on prices and times of the habitat is open.
GLOBAL PEST SERVICES in Las Vegas is a licensed pest control company that is qualified to handle all your pest elimination needs.  Call our office at 702-657-0091 or go to our web site- to speak with us for all your pest control needs.  Get a quote now!
Let us know what's bugging you….