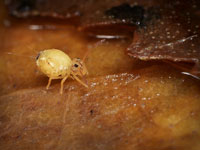 SPRINGTAILS IN LAS VEGAS – THE MOST "UNWANTED LIST" PART 16
The last pest on the Las Vegas UNWANTED LIST is the springtail. They can be found everywhere – in Spring Valley, Anthem, Boulder City and Centennial Hills.
Springtails are very small, wingless and have poor vision and usually occur in large numbers. They come in various colors but most often in grey or a purplish color. Their means of movement is the "spring tail" attached to the hind end of the pest which allows them to jump short distances.
They like moist and humid areas of soil – damp places with decaying leaves and wood. They feed on rotting vegetation, algae, bacteria, fungi, and insect waste. Springtails break down organic matter and release nutrients back to the soil which enriches the soil.
When the climate turns hot and dry springtails will move inside. They do not damage homes or hurt humans but can be a nuisance because they usually invade the home in large numbers. They are attracted to moist areas in the home – in the kitchen near the sink, bathrooms – near sinks and showers drains. Springtails also like damp wood – particularly inside wood furniture or window frames.
Springtails also can be found in the soil of houseplants – most often they are noticed just after the plants are watered.
If you have an infestation of springtails or any other pest near or in your home you may want to hire a professional pest control company.
GLOBAL PEST SERVICES in Las Vegas is a licensed pest control company that is qualified to handle all your pest elimination needs. Call our office at 702-657-0091 or go to our web site- to speak with us for all your pest control needs. Get a quote now!
Let us know what's bugging you….