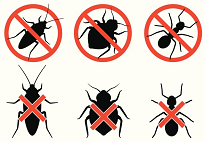 SPRINGTIME IS COMING AND SO ARE THE BUGS
The Las Vegas Valley is about to be into full springtime – with tress that have be dormant starting to bloom from Henderson to Spring Valley and the bugs come out as well.
Bugs start hatching in March and this year you will probably see more of them than normal – due to a milder winter. Also the drought of the last few months zapped the bug population.
All creatures – including pests and bugs – need moisture to survive and thrive so with Las Vegas having a mild winter we should expect a large pest season. Mites have started to hatch now. Also cockroaches are coming out in a big way.
Exterminators are already starting to see an uptick in calls. The best way to avoid seeing pests and bugs in and around your home is having a licensed pest professional visit your property regularly as a preventative measure. This is also true for commercial spaces.
GLOBAL PEST SERVICES provides pest control services to both residential and commercial clients. We pride ourselves on having the most knowledgeable and professional service staff in the industry. The pest control industry is always changing and constant training is necessary to stay current on all new products, treatment methods and equipment.
GLOBAL PEST SERVICES in Las Vegas is a licensed pest control company that is qualified to handle all your pest elimination needs. Call our office at 702-657-0091 or go to our web site- to speak with us for all your pest control needs. Get a quote now!
Let us know what's bugging you….