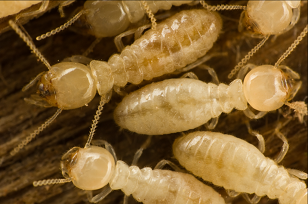 TERMITES- TOP TEN TIPS FOR PREVENTION
It is spring in Las Vegas with all the flowers starting to bloom in Seven Hills and Summerlin. Also we see unwelcome indications of spring – the presence of swarmers or flying termites.
The spring season is prime termite season – swarmers, emerge, mate and then form colonies sometimes in residential houses. Termites literally can eat your home right in front of you, and sometimes it might take a while for you to see damage. They eat through wood, flooring and even wallpaper. The damage can compromise the stability of your structure if left untreated.
Termites cause over $5 billion worth of damage annually. If you suspect an infestation call a licensed pest control professional immediately to get the situation under control.
There are some preventative measures a homeowner can take to help deter an infestation. They are as follows:
1-   Eliminate or reduce moisture areas in or around the home.
2-   Repair any leaks – faucets, water pipes, etc.
3-   Repair rotted roof shingles.
4-   Replace loose mortar and weather stripping around windows and home foundations.
5-   Divert water away from the house with functioning gutters and splash blocks.
6-   Inspect cracked or bubbling paint and wood that sounds hollow.
7-   Look at exterior areas of wood – like doorframes, windows for noticeable changes.
8-   Have an 18-intch gap between soil and any wood portions of your home.
9-   Have your home inspected annually.
10-Store firewood at least 20 feet from the house.
As we said above the best way to handle an infestation of pests is to call in a professional pest control company. These people are trained and have effective methods to treat areas where the pests are starting to hatch and grow.
GLOBAL PEST SERVICES in Las Vegas is a licensed pest control company that is qualified to handle all your pest elimination needs.  Call our office at 702-657-0091 or go to our web site- to speak with us for all your pest control needs.  Get a quote now!
Let us know what's bugging you….