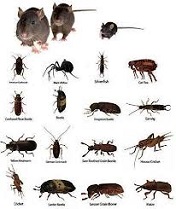 THE BEST WAY TO GET RID OF PESTS IS HIRING A PRO
As discussed in past blogs the Las Vegas Valley has many bugs and rodents that invade homes in Summerlin, Henderson and the rest of the communities here.
Rodents can enter a home through a hole the size of a half dollar and bugs can get through cracks on the exterior of the home. The researchers at PestWeb surveyed a group of pest control experts and the following are some tips they provided.
If you hear sounds coming from your attic or walls don't delay calling in a licensed pest control professional. You shouldn't try to guess what type of pest has invaded your home. A professional can quickly identify what type of infestation you have by examining droppings, gnaw marks, nesting material, splinters from chewing on siding or roof materials and even ceiling stains.
Stay clear of the pest – exposure to bugs or rodents can be a health risk. Some rodents carry rabies and can cause histoplasmosis, a lung infection that can be contracted if you breathe air that contains spores from an animal's fecal matter.
Also you should ask the pest control professional questions – find out how they will remedy the situation and what steps you should take to prevent it from happening again. Start keeping food in sealed containers, trim trees to limit access from the roof, seal and caulk any cracks you find on the exterior of home and make sure there are no leaks in water pipes.
GLOBAL PEST SERVICES in Las Vegas is a licensed pest control company that is qualified to handle all your pest elimination needs. Call our office at 702-657-0091 or go to our web site- to speak with us for all your pest control needs. Get a quote now!
Let us know what's bugging you….