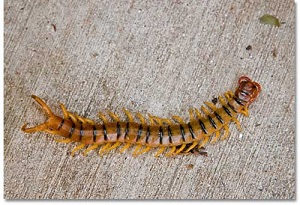 THE DESERT CENTIPEDE IN LAS VEGAS
The Las Vegas Valley is of course in the desert and home to the desert centipede. They can be found in Spring Valley or Boulder City – any section of town.
The desert centipede has different color characteristics from other centipedes. They are dark brown and can look intimidating since they can grow to be four to six inches in length.
The desert centipede is poisonous and can bite when threatened. The bite is similar to a bee sting and treated the same way. Some people may have an allergic reaction to the bite so go to an emergency room or Quick Care center where you can get prompt attention.
They are good predators of other insects including roaches. Once inside a home they will find places to hide and nest. The approach to keeping them out of your home is the same as with cockroaches or spiders – caulking and sealing any crack or other possible entry point.
It is advised to contact a licensed pest control professional to rid the desert centipede from inside your home. If you find them outside the suggestion is to leave them alone.
GLOBAL PEST SERVICES in Las Vegas is a licensed pest control company that is qualified to handle all your pest elimination needs including desert centipedes. Call our office at 702-657-0091 or go to our web site- to speak with us for all your pest control needs. Get a quote now!
Let us know what's bugging you….