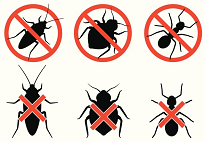 This past spring was certainly a wet one for the Las Vegas area and we now are starting to have over 100 degree days – perfect for bugs and pests to come out to annoy us.  Expect to see a rise in the amount of Ants, Cockroaches and other insects this time of year.  With the increase of these insects predators like scorpions and spiders that feed upon them may also increase.   Flying insects like moths, gnats and flies will also be more noticeable.  You may even see more bats around your home as they will be out feeding on the increased number of flying insects. 
Homeowners should be vigilant about keeping all types of pests out of their homes.  Pests are looking for three things – water, food and a place to hide out.  Eliminating even one of these three things can help.  Make sure there are no leaks in the kitchen or bathrooms.  Seal up any cracks you see in the walls around your house.  Lastly you should be vigilant about cleaning your kitchen countertops for crumbs and put your food in sealed containers in the pantry.  It is also an excellent idea to vacuum your home on a regular basis.
Also clean up your front and back yards – if you have fruit trees make sure to pick up all the fruit that has fallen from the branches before the bugs get to it.  If you have a pet and their bowls of food and water are outside you should consider moving their bowls inside.  Another thing you should look for outside is overwatering – this can give pests and bugs another source of water right near your home.
If you think you have an infestation it is strongly recommended that you hire a licensed professional pest control company to eliminate any pest problem.  It is advised once you have the situation under control make sure you eliminate anything that might provide a food source for these pests – like emptying garbage cans on a regular basis. 
GLOBAL PEST SERVICES in Las Vegas is a licensed pest control company that is qualified to handle all your pest elimination needs.  Call our office at 702-657-0091 or go to our web site- to speak with us for all your pest control needs.  Get a quote now!
Let us know what's bugging you…..