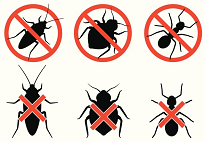 TIPS FOR KEEPING THE BUGS AWAY THIS SPRING
There's plenty to look forward to as spring approaches in the Las Vegas valley: Flowers blooming, birds singing. New life seems to be popping up everywhere you look from Summerlin to Henderson.
Unfortunately, that rule also holds true for pests. Because many insects are dormant in the cold months of winter, spring is when many homeowners realize that they may have a problem with pest control.
Ants are some of the first bugs to reappear as temperatures rise. Sugar ants, carpenter ants, large black ants, winged ants and little black ants are all commonly spotted by consumers. Other springtime pests
include bees, wasps, spiders, crickets, mites and beetles.
The following are some tips the help you avoid large infestations:
Tour your property looking for wasp and bee nests. Don't forget to look in attics and outbuildings. Rafters and vents are favorite nesting grounds for these stinging insects.
Seal any cracks you find. By eliminating any openings in your home's periphery, you're taking the first step in pest control. Ants are especially diligent about locating new entry points,
Maintaining a clear, plant-free zone around your home is an excellent idea for pest prevention and control. 
Also wipe down your counters, clean out your cabinets, keep food in sealed containers and keep a clean floor.
If you do discover a nest, call a professional pest control company. Removing these unwanted inhabitants is just too dangerous to do on your own.
GLOBAL PEST SERVICES in Las Vegas is a licensed pest control company that is qualified to handle all your pest elimination needs. Call our office at 702-657-0091 or go to our web site- to speak with us for all your pest control needs. Get a quote now!