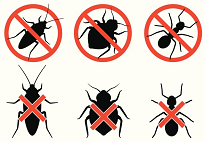 TIPS ON HOW TO REDUCE PESTS AT PICNICS AND BARBEQUES
It's summertime in the Las Vegas Valley and many residents have outdoor get-togethers. Families and friends in Boulder City and Summerlin have picnics or barbeques and also have to deal with pesky party crashers – ants, flies, mosquitoes, bees and wasps.
The National Pest Management Association shares some tips on how to avoid pests while enjoying the outdoors.
Have plenty of insect repellant on hand for you and your guests – the repellant should contain an EPA-registered active ingredient like DEET or picaridin.
Before the party inspect screen doors and repair any holes to keep pests from entering your home. Also remind your guests to close doors behind them.
Avoid using perfume or cologne while outdoors – yellow jackets and other stinging insects are attracted to sweet-smelling fragrances. You should use unscented lotions and sunscreen.
Use clear plastic cups – aluminum cans are good hiding places for stinging insects.
Place citronella candles around the area of your party – they help minimize the presence of mosquitoes.
If your party is in your yard plan to serve the food and beverages inside and use the outdoor space for eating and entertaining.
Clean up spills and crumbs immediately from all surfaces to keep pests away.
Dispose of garbage immediately located away from guests.
Have a great summer and take advantage of your outdoor space.
GLOBAL PEST SERVICES in Las Vegas is a licensed pest control company that is qualified to handle all your pest elimination needs.  Call our office at 702-657-0091 or go to our web site- to speak with us for all your pest control needs.  Get a quote now!
Let us know what's bugging you….