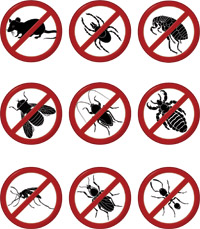 TIPS TO KEEP YOUR HOME IN LAS VEGAS PEST-FREE DURING THE HOLIDAY SEASON
Homes in Las Vegas look warm and festive when decorated for the holiday season – however bringing in your stored decoration and new plants and a tree can also bring in unwanted guest such as rodents, spiders, moths and more.
When unpacking your decorations that have been stored in attics, basements or garages carefully inspect everything and give them a good shake outside your home before you bring them in. This includes wreaths, trees, and other greenery – look for telltale signs like droppings, gnaw marks, and spider egg sacs. It is also a good idea to check your lights – mice and rats like to chew on the wires.
Store firewood on raised structures located at least 20 feet away from the home. Inspect firewood for pests and brush it off before bringing it indoors.
After the holidays are over store the décor in durable, sealed containers that pests can't chew through instead of cardboard boxes or plastic bags.
GLOBAL PEST SERVICES in Las Vegas is a licensed pest control company that is qualified to handle all your pest elimination needs including bed bug infestations. Call our office at 702-657-0091 or go to our web site- to speak with us for all your pest control needs. Get a quote now!
Let us know what's bugging you….