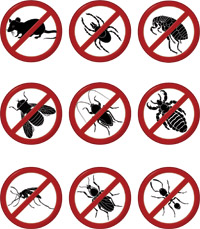 TRIPLE DIGIT TEMPERATURES IN LAS VEGAS BRING OUT MORE PESTS
Here in the Las Vegas Valley our triple-digit temperature are uncomfortable however the scorching weather also brings out the bugs – they come into our yards and also into our homes.
Pest control experts say during the summer months we see all types of bugs that we wouldn't see in the winter. With our rising temperatures you tend to see a bit more of everything - a lot more scorpions, ants, roaches, spiders. The higher temperatures help bugs move around faster, and breeding is a lot more active.
Some things you can do to keep bugs at bay include keeping a clean yard no debris lying around, and making sure there is no standing water on your property. Pests are desperate for water right now with the hot dry conditions we experience in the summer.
While some insects can just be a nuisance, others can be deadly, like the black widow, which is seen more during the summer months. If you are bitten you can get a fever - seek immediate medical attention.
Physicians said there was a record amount of scorpion stings last summer. If you do get stung, there are some things you should do. Put some cold compresses on it. You don't necessarily want to ice it, because the ice can cause necrosis to the tissue because you're starting to lose blood flow. So you want to put some cold compresses on it because it makes it feel better and slows down some of the spread. You should also have a medical professional look at the area.
If you're allergic to any type of venom, make sure you're prepared. Make sure you have an EpiPen, which is an epinephrine subcutaneous needle that you can stab yourself with if you need to and inject your leg with it. It is also suggested to see a medical professional.
GLOBAL PEST SERVICES in Las Vegas is a licensed pest control company that is qualified to handle all your pest elimination needs. Call our office at 702-657-0091 or go to our web site- to speak with us for all your pest control needs. Get a quote now!
Let us know what's bugging you….