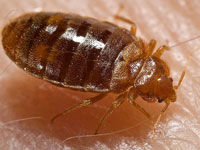 WARMER WEATHER LEADS TO TRAVEL AND BED BUGS
The warmer weather is fast approaching Las Vegas and residents of Summerlin or Henderson and other areas of the valley are planning some get-a-way trips. Great ways to unwind and relax - also pick up bed bugs and bring them home with you.
There was a recent Harris Poll on how Americans are taking action to prevent bed bug infestation. Based on the survey 59 percent of adults in the U.S. are taking some kind of preventive measures against bed bug infestations.
When checking into a hotel - 39 percent inspect the sheets, mattress pads, mattresses etc. for signs of bed bugs. 29 percent of people avoid visiting any locations that are known to have had a bed bug problem. 12 percent vacuum their suitcases after returning home from a trip or vacation and 8 percent keep suitcases in a protective cover during their hotel stay.
If you are experiencing bites but not have seen any bugs you should think about the circumstances in which the bites are occurring. Bed bugs lead a secretive lifestyle – they are good at hiding. The best way to find a bed bug infestation is to hire a trained professional to conduct an inspection for you. These people are trained and have effective methods to treat areas where the pests are starting to hatch and grow.
GLOBAL PEST SERVICES in Las Vegas is a licensed pest control company that is qualified to handle all your pest elimination needs.  Call our office at 702-657-0091 or go to our web site- to speak with us for all your pest control needs.  Get a quote now!
Let us know what's bugging you….