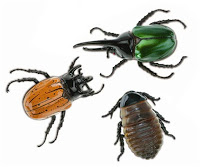 WAYS TO ELIMINATE PANTRY PESTS FOR THE HOLIDAYS
The holidays are almost here and everyone in Las Vegas is busy baking goodies for the families and friends.  We want to remind those that are busy bakers to take extra precautions when it comes to pantry pests. Because, no one wants a buggy surprise in holiday cookies, cakes or pies! 
Pantry pests, otherwise known as stored product pests such as Indian meal moths, weevils and merchant grain beetles, have the ability to quickly infest food in our cupboards.  Many pantry pests are brought home in items that are already infested, such as food in paper packaging that has be damaged and unsealed bags. When in the store, inspect all items carefully to make sure they packages are sealed properly.  If ordering groceries online, it's also important to inspect deliveries and packages before bringing them indoors as this can help reduce the risk of bringing in other bugs, such as cockroaches.
Proper food storage can go a long way in preventing an infestation of pantry pests. Once packages are opened transfer ingredients into sealed glass or Tupperware-type containers with secure lids before storing them in the pantry or cabinet. Label the expiration dates somewhere on the containers so you know when they are past their time.
Immediately wipe your countertops of any crumbs or spills.  Also wipe the shelves in your pantry, the table you eat at and of course mop the floor regularly, plus dispose of garbage regularly.
GLOBAL PEST SERVICES in Las Vegas is a licensed pest control company that is qualified to handle all your pest elimination needs.  Call our office at 702-657-0091 or go to our web site- to speak with us for all your pest control needs.  Get a quote now!
Let us know what's bugging you….