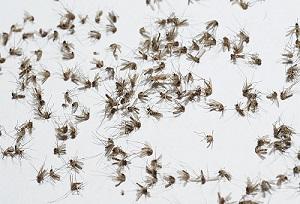 WEST NILE VIRUS IN LAS VEGAS
The Sothern Nevada Health District reported a man has contracted the first human case of the West Nile virus of 2017 in Southern Nevada. The unidentified man, who is in his 50s, has the "more serious neuroinvasive form" of the illness, according to experts.
The health district advises that the Wile Nile virus is spread through the bites of mosquitoes that have fed on infected birds.  Mild symptoms include fever, headache, body aches, nausea and vomiting. In some cases, West Nile virus can cause severe neurological illness or death – so if you have any symptoms you should seek medical attention.
West Nile virus prevention tips from the Southern Nevada Health District
Use Environmental Protection Agency-registered insect repellants containing DEET, Picaridin, IR3535, Oil of lemon eucalyptus (OLE), or 2-undecanone.
Wear pants and long-sleeved shirts to reduce mosquito exposure when outdoors.
Eliminate areas of standing water around your home, including non-circulating ponds, "green" swimming pools, and accumulated sprinkler runoff, which support mosquito breeding.
The first human cases of West Nile virus in Clark County, along with the first positive mosquitoes, were reported in 2004.   The Health District says to expect to see the virus every year during the mosquito season, which occurs April through November. 
GLOBAL PEST SERVICES in Las Vegas is a licensed pest control company that is qualified to handle all your pest elimination needs.  Call our office at 702-657-0091 or go to our web site- to speak with us for all your pest control needs. Get a quote now!
Let us know what's bugging you….