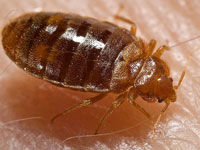 WHAT BUGS OR PESTS ARE OF INTEREST TO PEOPLE LIVING IN THE LAS VEGAS VALLEY?
When someone asks what I do for a living and I answer Pest Control I get many different types of reactions from dismay to oh wow.  Many people do not realize that pest control is important to keep families safe as well as animals, property etc. If we didn't have exterminators our homes could literally be damaged- having to spend untold amounts of money to fix it.  They don't realize bugs and rodents carry diseases that affect families.  Children could develop asthma. Also the yards that surround their homes would be under attack.
Once that is out of the way I get asked about many different types of pests however the number one pest it seems that is on everyone's mind is Bed Bugs.
In 1940 bed bugs were almost completely eradicated from human habitats in developed countries but recently infestations have been on the increase.  More people are travelling to more exotic places and now we have infestations again. Las Vegas is one of the top travel destinations in the country, so exterminators say it's no surprise bed bugs are found in hotels, movie theaters, cars, airplanes and other high traffic areas -they like a controlled environment the same as we do and they like to near humans as we are what they feed on.
When traveling keeping personal items and baggage away from the sleeping areas and elevated off the ground – it's also a good idea to put your luggage in garbage bags. It would be wise to inspect the mattresses, box springs and headboards prior to sleeping in a hotel room.   Bites can take up to a couple of weeks to show themselves so just because you don't see a bite while you are staying somewhere on vacation does not mean you are in the clear.   
Upon returning home from a trip, inspect suitcases and other belongings before putting them away and bringing them into the house. Wash all of your clothes - even those that have not been worn - in hot water to ensure that any bed bugs that came home with you are eliminated.
At home if you think you see a bedbug, grab it with tweezers and put it in a small container with rubbing alcohol, or pick it up with clear tape then tape it to a piece of paper and show it to a professional.  Bites from bed bugs can cause a rash and they usually bite in the same areas of your body and you might want to call in a professional to get rid of the bed bugs.
GLOBAL PEST SERVICES in Las Vegas is a licensed pest control company that is qualified to handle all your pest elimination needs.  Call our office at 702-657-0091 or go to our web site- to speak with us for all your pest control needs.  Get a quote now!
Let us know what's bugging you….