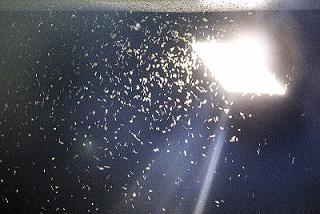 WHAT TYPE OF LIGHT BULB YOU SHOULD USE TO AVOID ATTRACTING INSECTS
In Las Vegas spring and summer months are wonderful times to eat and entertain outside on the patio of your home. In the evening hours we use light bulbs to illuminate the area and this attracts insects to the area.
Researchers and experts say the type of light bulb you choose could change that, based on new studies. . An ecologist has just announced the results of a summer-long experiment, and has shown that there's a difference between the insect attractiveness of six of the most common store-bought light bulbs.
According to the results the worst option for outdoor lighting was traditional incandescent bulbs and the best (and least appealing to insects) was a warm colored LED light - those are the LEDs that produce a yellow/orange hue, rather than cool blue light. The yellow-hued LEDs turned out to be even better than 'bug lights' - bulbs on the market that claim to avoid attracting insects.
These results were announced at the American Association for the Advancement of Science conference last week by ecologist Michael Justice, who has a PhD from the University of North Carolina. Dr. Justice wrote in his paper "This is the first study to directly compare all the major types of bulbs designed for exterior residential use. A widespread shift to LED lamps could greatly reduce the impact of light pollution on insects."
To figure this out, Justice and his team set up a funnel trap outside with a single light bulb inside. They rotated one of the six different light bulbs in the trap each night, and every morning counted the number and type of insects that had fallen in.
The results showed incandescent light bulbs pulled in the highest number of insects, followed by CFL, halogen globes, and cool-colored LEDs. The second best light was the 'bug light', and the winner, with the least amount of insects attracted, was the warm LED bulb.
GLOBAL PEST SERVICES in Las Vegas is a licensed pest control company that is qualified to handle all your pest elimination needs. Call our office at 702-657-0091 or go to our web site- to speak with us for all your pest control needs. Get a quote now!
Let us know what's bugging you….