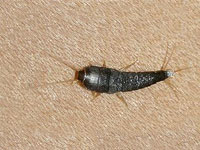 WHEN THE TEMPERATURES IN LAS VEGAS GET COOLER - SILVERFISH LOOK FOR SHELTER
Silverfish are one of the ugliest pests you will ever encounter. They have thin pale bodies silvery or brown in color with fine scales, feathery legs, two long antennae, and are wingless.  They are also around ¾ of an inch long – they dart around and disappear quickly before they can be captured or killed.
These pests are common in many houses, however being nocturnal creatures, people rarely see them. When they do discover a silverfish it is always an unpleasant surprise for both the insect and the person.
Though silverfish will consume many foods that are not stored in insect-proof containers, the bacteria they harbor have not been found harmful to humans. The waste they leave behind is not toxic. This does not mean that anyone would want them in their home. Quite the reverse -while silverfish do not bring disease to a home, they do cause damage to the home's contents.
Silverfish live off a diet that is rich in starch and simple sugars. They will consume anything that contains these ingredients. This does not only include unprotected food like flour or cereals and silverfish will do more than raid an uncovered sugar bowl.  They like paper, adhesives, string, photographs, carpets, and clothing- all contain nutrients that silverfish crave. Books, since they are made of paper, bindings, and glue are where silverfish cause the most household damage. While having them consume an entire volume is rare, they can nibble away at the cover and pages for years. They also can cause holes in clothing, drapery, and rugs depending on their construction. If they do not find enough appropriate food, they will consume synthetic fibers. 
GLOBAL PEST SERVICES in Las Vegas is a licensed pest control company that is qualified to handle all your pest elimination needs including silverfish.  Call our office at 702-657-0091 or go to our web site- to speak with us for all your pest control needs.  Get a quote now!
Let us know what's bugging you….