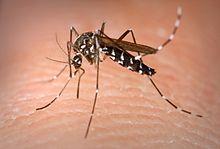 ZIKA VIRUS FOUND IN THREE CLARK COUNTY RESIDENTS
In the past week the Center for Disease Control and Prevention (CDC) announced more cases of Zika virus infected people in the United States. As of yesterday there were a total of 358 of travel-associated Zika virus disease reported within our country and 3 of those cases are here in Clark County Nevada.
Zika virus is a disease caused by the bite of an infected Aedes species mosquito, The most common symptoms of Zika are fever, rash, joint pain, and conjunctivitis (red eyes). The illness is usually mild with symptoms lasting for several days to a week after being bitten by an infected mosquito. People usually don't get sick enough to go to the hospital, and they very rarely die of Zika. For this reason, many people might not realize they have been infected. However, Zika virus infection during pregnancy can cause a serious birth defect called microephaly, as well as other severe fetal brain defects. Once a person has been infected, he or she is likely to be protected from future infections
Dr. Anne Schuchat, a deputy director of the CDC, told reporters the type of mosquito that carries the virus is present in more U.S. states than initially thought. She said what authorities are learning about the virus is "scarier than we thought." Nevada is so far one of the states that does not have this type of mosquito
Anthony Fauci, director of the U.S. National Institute of Allergy and Infectious Diseases, said at a White House briefing the first Zika vaccine candidate should be available in September.
As of now there are no cases of locally acquired Zika virus cases reported. That means we have not seen any cases that started on U.S. soil.
Summer is the time of year we start to see mosquitoes so it is advised to use bug repellent spray and after a rain eliminate any standing water on your property as this is a good breeding ground for mosquitoes.
GLOBAL PEST SERVICES likes to keep our neighbors in the Las Vegas Valley informed and safe.
GLOBAL PEST SERVICES in Las Vegas is a licensed pest control company that is qualified to handle all your pest elimination needs. Call our office at 702-657-0091 or go to our web site- to speak with us for all your pest control needs. Get a quote now!
Let us know what's bugging you….