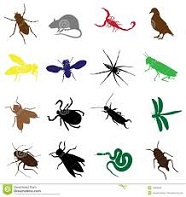 BEST PRACTICES FOR KEEPING PESTS OUT OF YOUR HOME IN LAS VEGAS
The winter season for many common household pests and troubling wildlife in Las Vegas is all about survival. Whether you live in Boulder City or Aliante they will look to take shelter from cold weather or find a resource for food, maybe in your home.
Once inside the home, these pests can do damage to your property, contaminate your food or even spread disease. The National Pest Management Association answers some of the most asked questions by homeowners regarding hoe pests find their way into homes.
What makes homes attractive to pests?
There are three things pests are attracted to – food, water and shelter. Keep food in sealed containers and clean up after meals and avoid leaving crumbs for pests to find. Check pipes and drains for any leaks to eliminate moisture – if pests get in they will not find conditions that they can thrive in.
How do pests get into homes?
They enter homes through cracks around foundations, doors, windows, torn screens, tiny holes where utility pipes enter homes and uncapped chimneys. Other ways they enter are in firewood, grocery bags and boxes delivered to your home. To help avoid pests you should caulk and seal any holes you find on the exterior or interior walls and examine the packages you receive.
Where are pests most likely to settle in?
Basements and attics are the most common areas since pests have direct access to them through the foundations and roofs. Also bathrooms and kitchens since they both have water.
What should I do if I have an infestation?
If you have a pest problem the best way to pest proof your home is to call in a licensed pest control expert.
To get rid of all pests you might encounter in the Las Vegas Valley contact GLOBAL PEST SERVICES.  The licensed professional technicians are well trained in eliminating all pests.  Get your quote now!
Let us know what's bugging you…